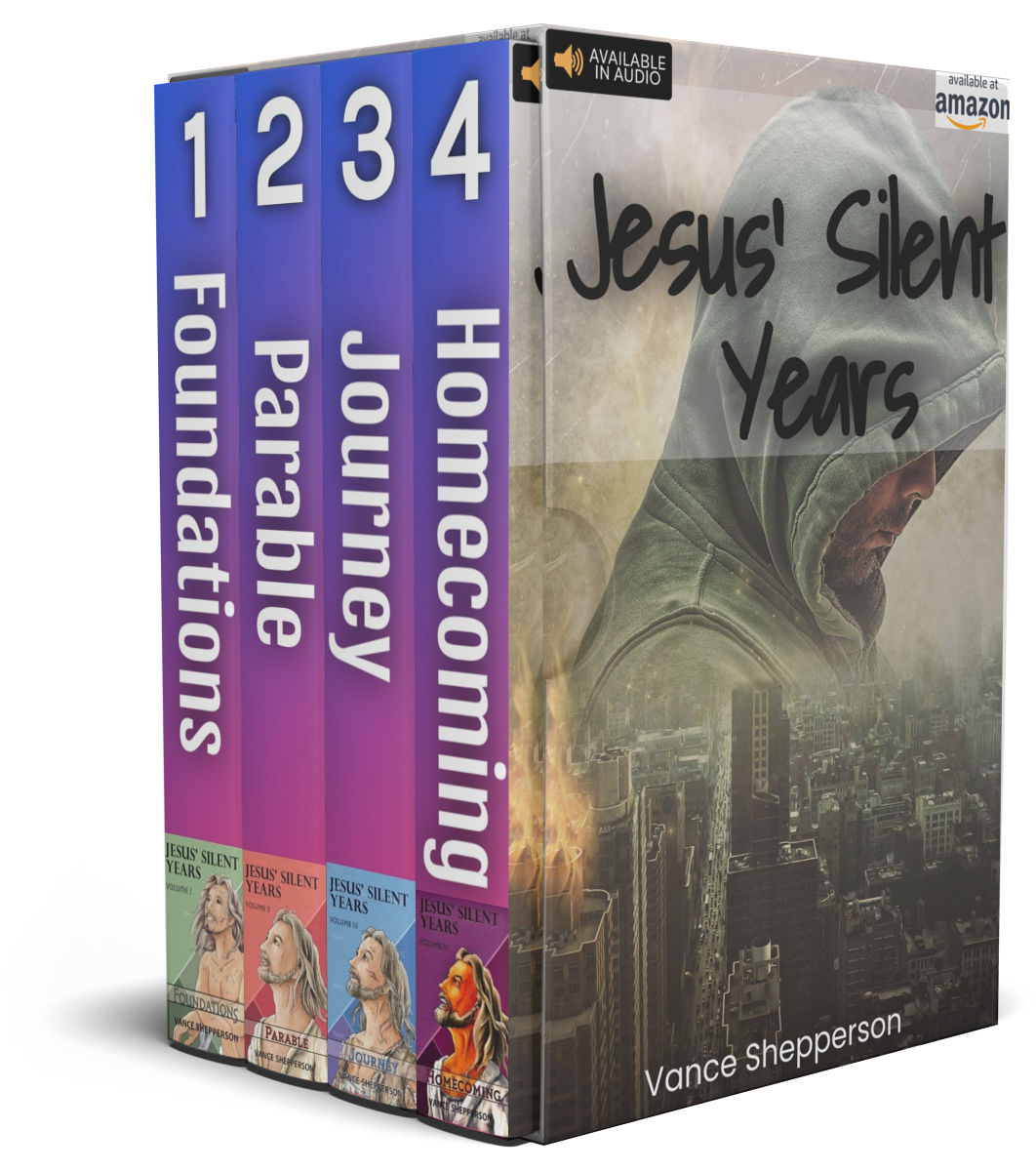 Jesus' Silent Years: 4 Book Series
Jesus' Silent Years is a four-volume series of historical novels, written in modern language for modern people (not using ancient-speak).
These novels have one focus, Jesus of Nazareth. They paint contrasting stories from different points of view about Jesus.
More than one storyline designed to complexify his person, nuance his character.
Tales from good and bad folks smack up against each other.
Each story shows how Jesus' character was shaped.

These fictional tales of Jesus align with the character of the man we see in scripture. They're a backstory to the New Testament gospels and detail the classic hero's journey.
Jesus' Silent Years, Volume 1: Foundations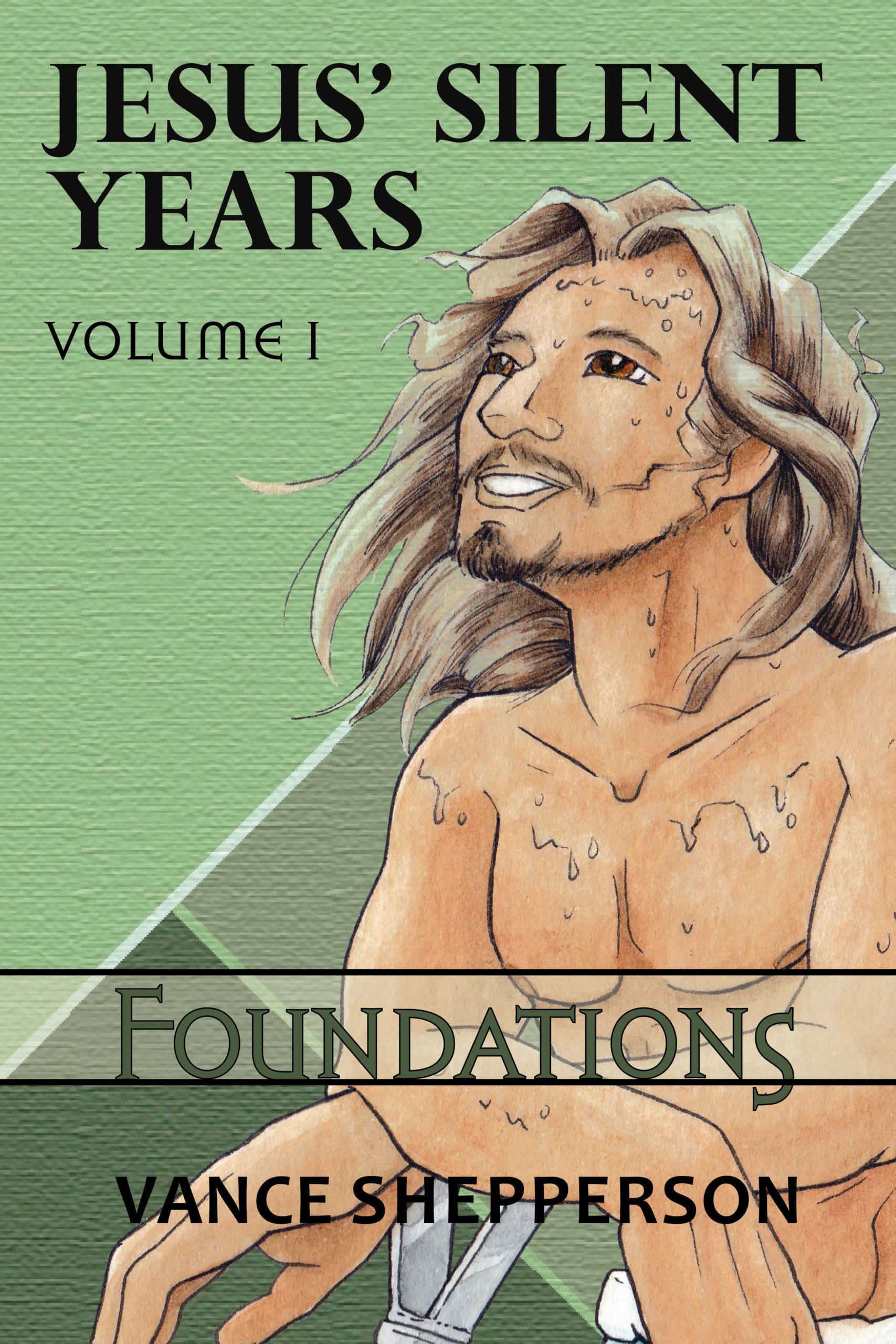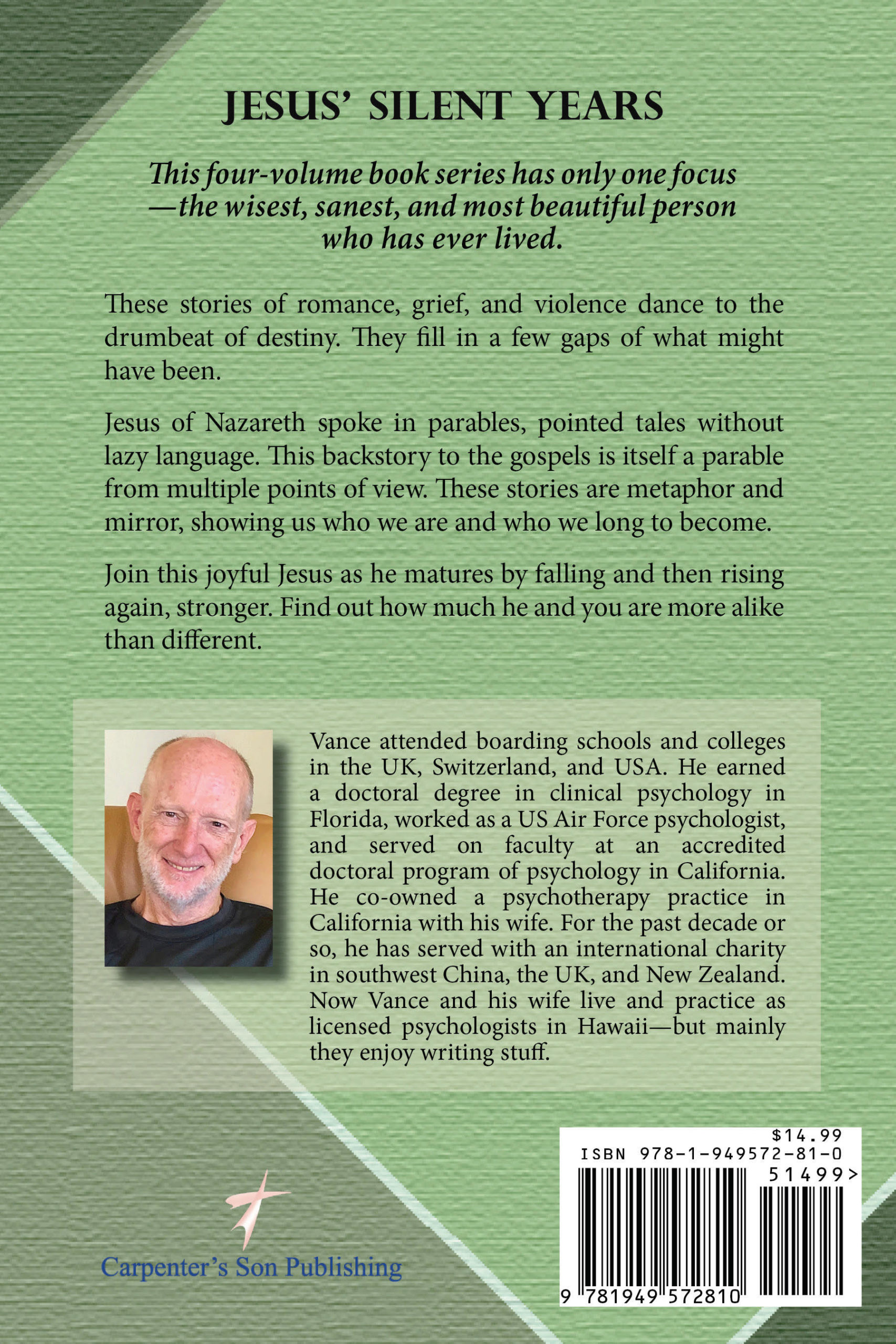 Jesus works as a common tradesman, but with
uncommon abilities.  He grows into and through the tasks of young adults in this four-book
series.  We journey with Jesus as he stumbles and recovers from failures.  He's pushed to his limits with sexual temptation, anger, depression, and doubt—yet stays true to his calling.
Live inside Jesus's world, as he figures out who he is and isn't, who his
friends are, and how to battle his enemies.  
Caesar Augustus' granddaughter, Claudia, falls deeply in love with Jesus, and he with her.  The Spirit and Father train Jesus in every battle, every defeat, every triumph.  You'll laugh and cry with him and his friends in their ongoing battles to grow
up.  You might even find outexactly how much he and you are more alike than different.
Release date: January 5, 2021.  
Press Release January 19, 2021
Jesus' Silent Years: Book 1 Foundations
Jesus' Silent Years, Volume 2: Parable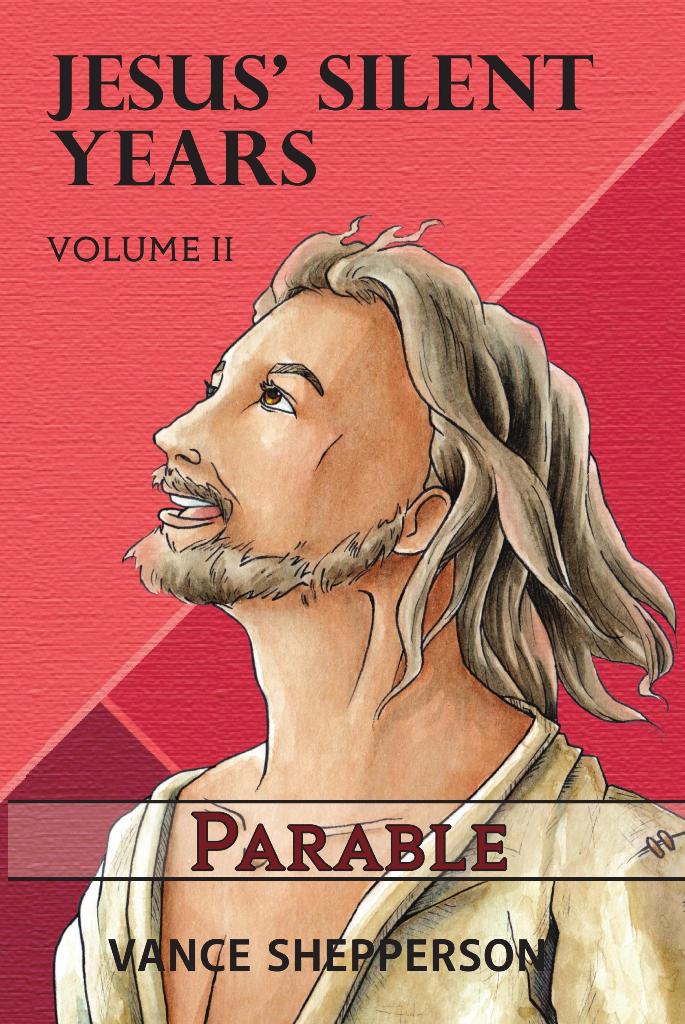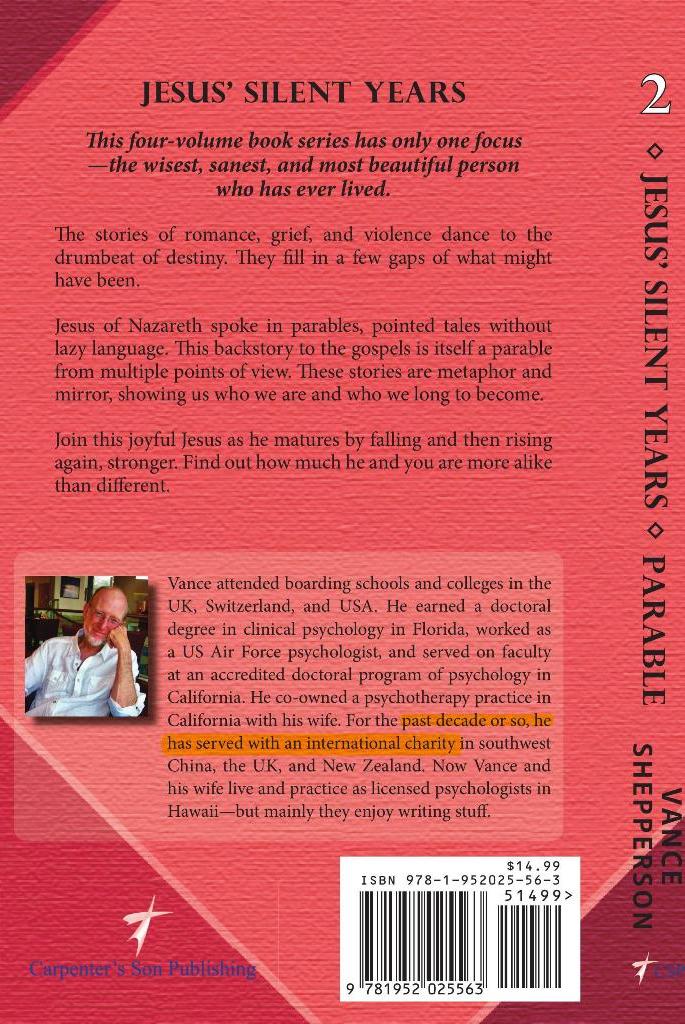 Parables picks up Jesus' story at around twenty years of age. We learn how Jesus became a master teacher.
Jesus did not speak without telling parables. He told stories of good people who went bad; bad people who went good; stories with sad outcomes and glad ones. He taught by contrast: this is a good person, that is a bad one. He didn't lecture. He told stories.
Release date: February 20, 2021
Jesus' Silent Years, Volume 3: Journey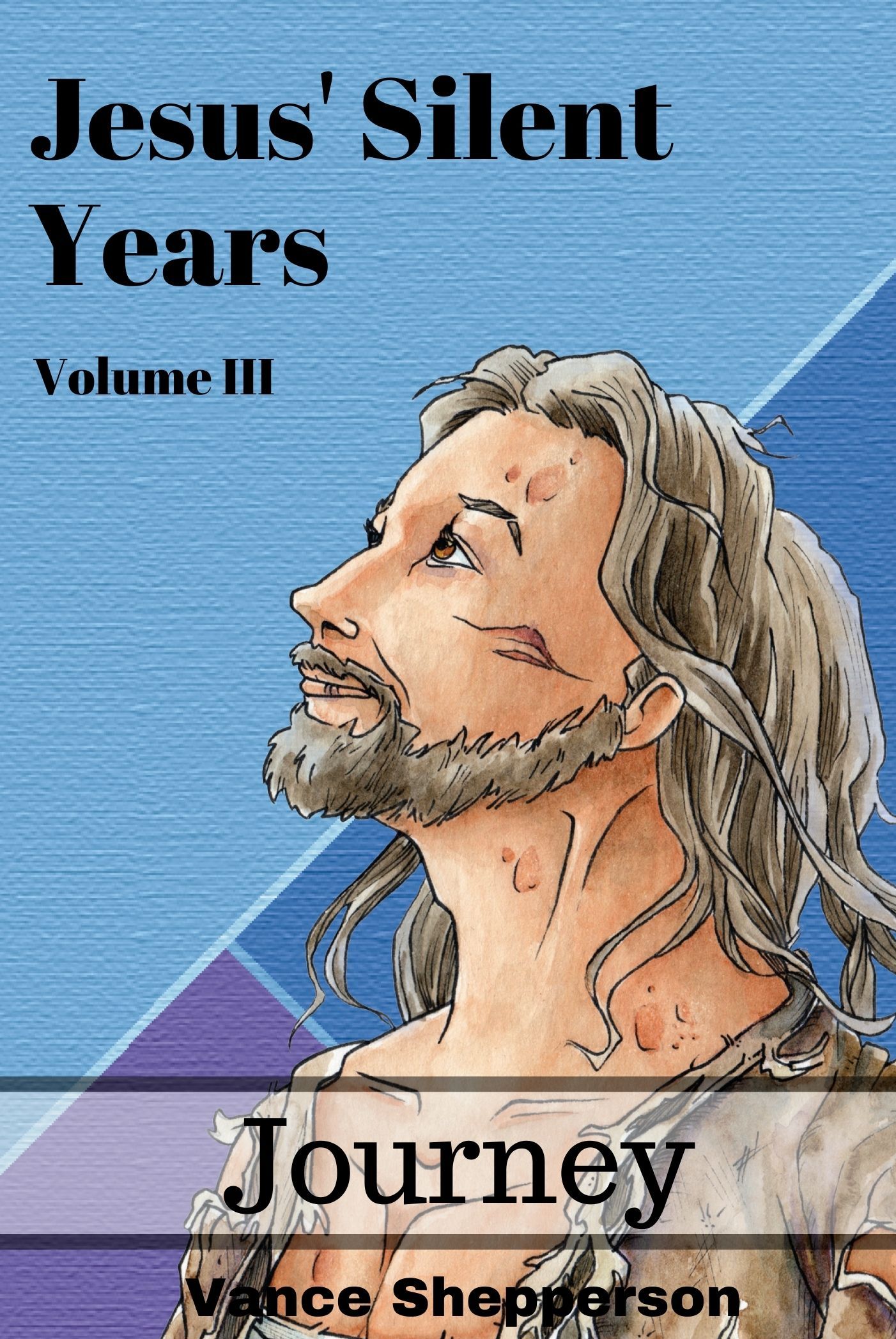 Jesus' Silent Years Book 3: Journey
Journey, volume three, walks alongside Jesus in his mid-twenties. These adventure stories are set inside the Italy, modern day Albania, Cyprus, and Egypt.
Journey showcases a growing Jesus who deals with authority, regulates his moods, deals with abuse, and balances love with loss.
We also see how his Spirit, Windy, travels the planet with and apart from him, weaving his presence back and forth into his life and the lives of those he loved.
Jesus' Silent Years, Volume 4: Homecoming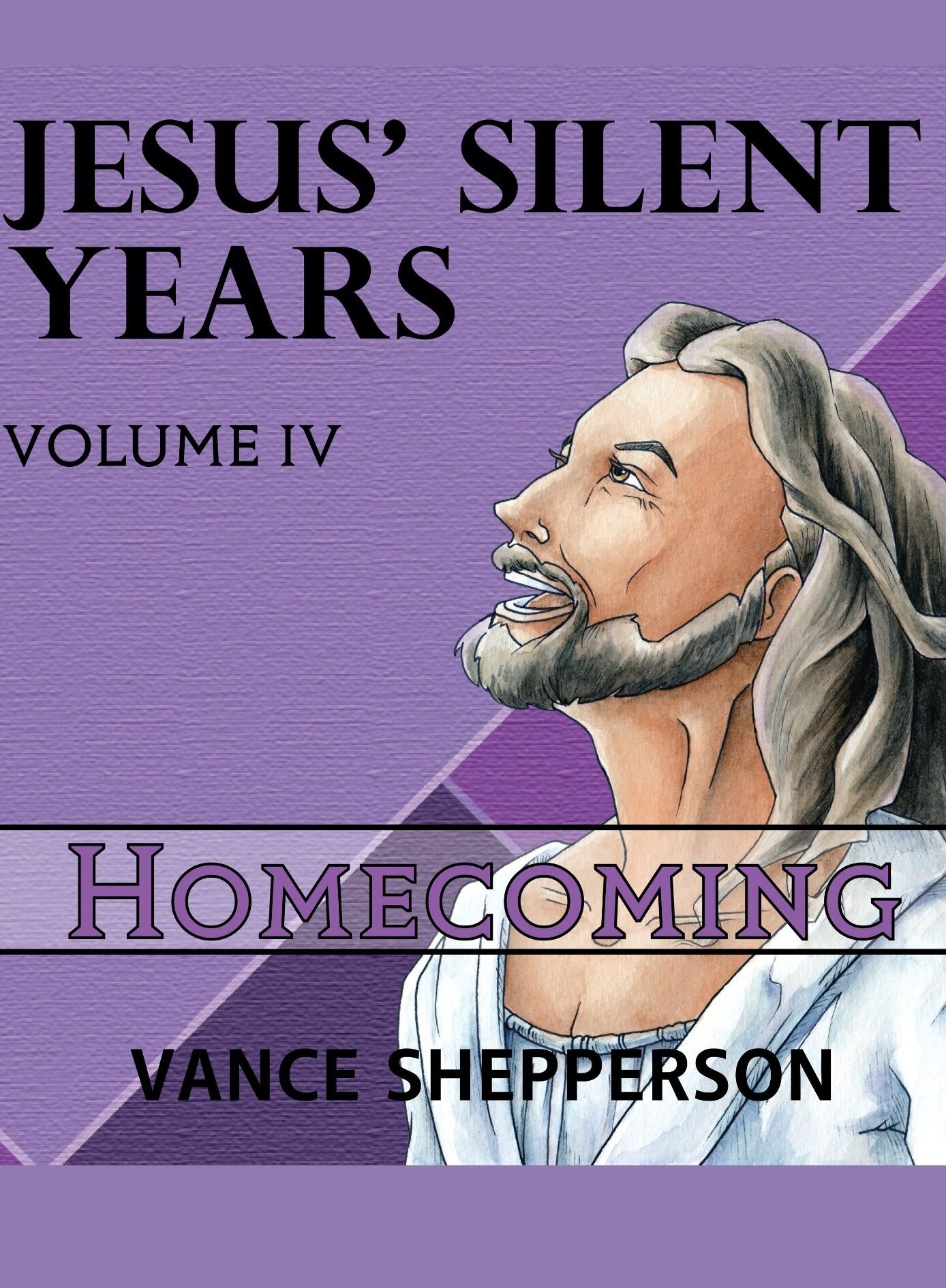 Jesus' Silent Years Book 4: Homecoming
Homecoming, volume four, takes Jesus back to Israel from Egypt in his late twenties. We walk with him, and his friends, through the desert. We witness the slow healing of one friend, Slow, who's been fractured into many parts by childhood sexual abuse. We see the ambivalence of Barabbas (aka Rabbus), teetering on the brink of following Jesus or giving into his desire for revenge.
Jesus learns to trust God for water out of hard rock. We learn by story how God seeds us, weeds us, tenders us into adulthood, each in our own way.
Review from a British Priest in the Church of England

Introduction and brief plot summary
"The Silent Years does what it says on the tin and imagines what life might have been like for Jesus in his teenage years, called "silent" because a lot was written about his birth and far more on his last couple of years on earth, but between his Bar Mitzvah and his Baptism by John there is almost no documentary evidence.
So this book paints a picture of what might have been – what it was like for Jews living under brutal Roman occupation, Jesus' relationship with his abba, Joseph, and apprenticeship to him as a builder (our word carpenter is too narrow to describe the wide ranging work Joseph probably did), his informal religious schooling under the Nazareth Rabbi, Rav Moshe, his banter and practical joking relationship with brother and sisters, his sympathy for lepers and other outcasts who lived in the nearby caves, the close and changing relationship he had with his mother, Mary, especially after the terrible tragedy of Joseph's death.  Other characters appear who may or may not be in the Biblical records also appear like Lazarus, John the Baptist, Barabbas, Simon of Cyrene etc… and also an imagined girlfriend, Claudia (though the relationship is never consummated).
Structure
Two characters with vital roles in the story are his heavenly Father, and "Windy," the Holy Spirit, who is portrayed sometimes as female, sometimes male.  Windy is a frequent narrator.  (Many readers might be reminded of this character in The Shack).  Each chapter is told as if by one of the participants.  This helps give the story an authentic, fresh, and pacey feel.
There is a sense of place that rings true – the overwhelming heat of noon in an Israeli summer, the vegetation, the caves beside some of the paths around Nazareth.  Vance Shepperson has experienced these things in Israel, and not just researched them from books.  Several of the characters grow on you and gain in depth as the story goes along.  Some are detestable, but usually show possibilities of redemption.
But the absolutely central character as the title implies is Jesus.  And he is shown "warts and all" – the acned teenager, with all the usual mood swings, and an awkwardly strong sex drive.  If your visualisation of the teenage Jesus is of a saintly looking, otherworldly figure as depicted in a Murillo painting;
then you're in for a shock.  He struggles, questions, complains and experiments as any teenager does.  The intimate scenes with Claudia, who does not share Jesus' chastity, rub your face in his humanity.
Some of the scenes of sex and brutality are painfully graphic.  A band of prostitutes' revenge on a Roman soldier is difficult to read.
Language 
The language is strong and direct:  an abused teenaged girl shouts to Jesus and Laz: "Let me be my straight-up, screwed up whoring self, without a Saviour in sight…"
But then there are sublime passages like the one of God the Father comforting the Son who is coming to the end of his tether:  "Father materialised out of nowhere and sat beside me his right arm draped around my neck.  He kneaded my neck.  His love flowed through his fingers into hollow places within me as he listened to me blubber along, unpacking my anger.
"Then he nourished me with strong words.  You are My beloved Son.  You please me so much, all the time, without fail."
Summary 
Don't read this if you want to agree with every piece of this historical fiction—you won't.  Don't read this if you want a bland bedtime story.  It's not soporific; instead, it's thought-provoking.  Don't read it if you want to continue with an image of Jesus as a plaster cast saint high above ordinary human temptations."
"Read Jesus' Silent Years to rethink your image of Jesus.  Read it to re-fashion the whole way you relate to most mysterious, beautiful, and surprising thoroughly human being who ever lived.  Enjoy the skilful storytelling.  Learn practical, new ways to walk in Jesus' footsteps."
Review from an Episcopal Priest
I have ordered and now been blessed to read all four of Vance Shepperson books, Jesus' Silent Years. AWESOME work.  This "historical fiction" is really a profound and spiritual examination of human beings in relationship with God, Father (EL ABBA), Son (JESUS) and Holy Spirit (Windy).  All this theology is smuggled into stories that entertain even as they teach.  The stories are told through the eyes of Jesus and the characters who surround His early life.  These back stories, from various points of view, include many of the parables. 

 

     Jesus is a very real human being in these books.  We see him grow up from age 13 to 30.  He's fully human, as Christianity teaches regarding the Incarnation.   His temptations and sufferings, as a teenage boy, as a young man in love, and as a man betrayed, imprisoned, abused, etc., all give profound insight into the role of prayer, faith, and relationship with God through the course of life.  We feel his suffering and joys with him, and realize he too joins with us through his Spirit in our modern lives. 

 

While reading these fictional backstories I got great insight into the Gospels and a deeper sense of my own relationship with God.  In the author's own words, "You can find most of these people inside you."  In doing so, you learn much about yourself, about yourself in relationship with others, with God, and even with Satan (through their temptations).

 

    The many characters, Mary and Joseph, Cousin John (later the Baptist), Mary, Martha and Lazarus, Mary Magdelaine Zacchaeus, Pilate, and more, each show us something of ourselves, and give insight into ourselves in relationship with God and our neighbor.

 

   I have gained profound insight into myself and my relationships with God and my neighbors through reading these stories of Jesus and his friends, foes, and family members.  As a Priest with a Master's Degree in Theology, I highly recommend these books to all who are seeking deeper relationships and a deeper understanding of themselves and of their faith.  

—Dwight Brown, Vicar